Fusion 6 is out, and i wanted to test something that has been gathering dust on my harddisk because the script simply could not be done natively in Fusion 5.
But here's a quick prototype on a script that takes a multi channel EXR file and creates new loaders with the same EXR file but assigns groups of channels accordingly to the RGBA channels so it is  ready for easy comping.
Now this is as i said, a prototype, it requires an EXR file that contains channels like the channel names in the example file below (rendered with Autodesk Maya passes), there's no GUI, it doesn't do any error checking or anything fancy to check for channels that can or can't be grouped.
Should the script fail and your comp seems to stop working or responding, try typing the following in the command line (it means it failed between the locking and unlocking of your comp and is thus locked and needs to manually be unlocked again)
comp:Unlock()
changes in v1.5
Fixed the preference saving on Win 7 and 8. This is the same problem that occurs on all tools that use the script preference saving function this tool uses.
Added Fusion 7 support by explicitly using ipairs when iterating table value key pairs.
changes v1.4
Created Loaders can now be placed on a grid (every nth loader the placement will start over on one axis and step one position further on the other axis.)
Setting grid placement to 0 makes the script behave in the old way, setting the grid placement to 1 reverses the placement direction (obviously.)
Placement on y-axis can now be set to tiled, so when loaders are set to force source they won't overlap anymore.
Script settings are now stored in between session.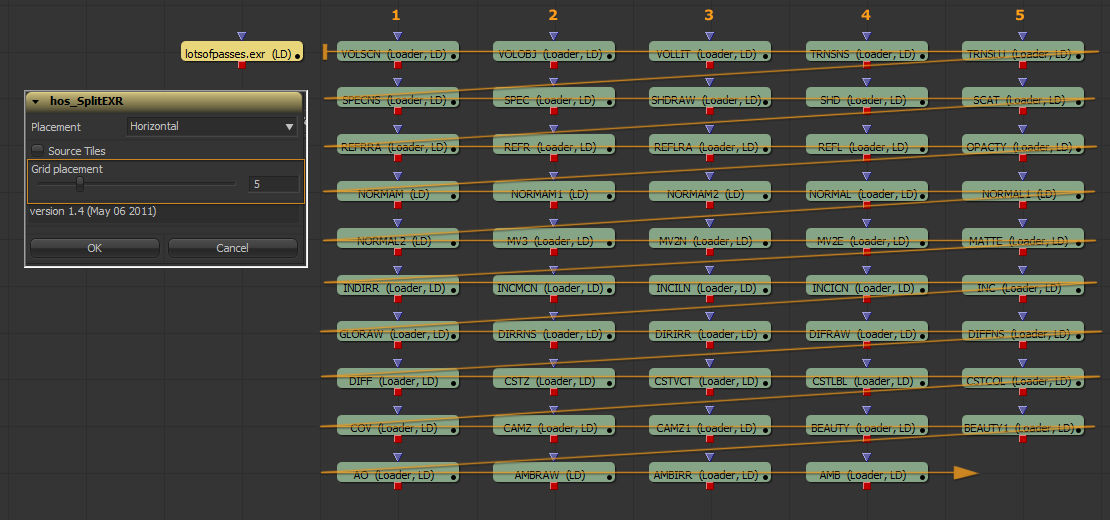 changes v1.3
Added Loader naming function to create Loader with channel group prefix name.
changes v1.2
Added a TOOLST_Clip_FormatName check to fix the 'attempt to index global 'tool' (a nil value)' error.
changes v1.1
XYZ channel data is now recognized and mapped to RGB channels
Added a GUI where you choose how the split EXR loaders are placed (Horizontal or Vertical)
changes v1.0
Prototype and initial release